News
Conservative Treatment For Spondylolysis In Young Soccer Players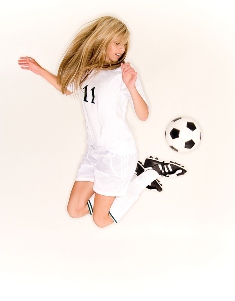 Evidence lacking for proper management of common condition
Soccer is far-and-away the most popular sport in the world, and though it doesn't receive the same support in the U.S. it does internationally, the number of those playing it continues to grow regularly. Unfortunately, along with the growth in popularity, associated injuries also grow, particularly spine disorders, one of the most common soccer injuries. Spondylolysis, a condition resulting from a stress fracture to a vertebra (usually L5), is considered the most common cause of low back pain (LBP) for patients under 18, with some figures claiming it accounts for 47% of all LBP cases in that demographic. Despite all these injuries, however, there is a lack of information regarding optimal management for this condition and on the effectiveness of conservative treatment for athletes. Based on this, a study was conducted to report the functional outcomes of young soccer players with lumbar spondylolysis who underwent conservative treatment with cessation of sports and rehab with or without thoracolumbar orthosis.
Small group undergoes identical program
Patients were recruited if they reported LBP and were eventually diagnosed with spondylolysis and had a minimum two-year follow-up, leading to a total of 34 patients averaging 15.7 years old. All patients were given plain radiographs at the time of diagnosis and then at three months of treatment, but imaging studies were based on bone SPECT studies of the spine, obtained at diagnosis and then during the follow-up. All patients were treated non-operatively with sport cessation and rehab for three months, and those with pain at rest and in daily life activities were also given a thoracolumbar orthosis. The identical rehab protocol emphasized the strengthening of abdominal muscles, stretching the hamstrings, "core" stability exercises and trunk rotational movements. Patients were analyzed at three-month intervals using SPECT for two years to determine if they were ready to return to sports, after which their functional outcomes were graded.
Almost all patients report excellent or good outcomes
Results showed that of the 15 patients needing thoracolumbar orthosis, all (100%) obtained excellent results at the final follow-up, and of the 19 who didn't use it, 13 (68%) obtained excellent results, 4 (22%) obtained good results, and only 1 each (5%) reported fair or poor results. All patients who received excellent results had a completely negative SPECT study at an average of 4.3 months, while the two who received fair or poor results had a positive SPECT at 12 months follow-up. These results show that conservative treatment for lumbar spondylolysis with sport cessation and rehab, with or without thoracolumbar orthosis, can create excellent results and bring athletes back to sports in a reasonable timeframe. Early diagnosis and SPECT scintigraphy are also stressed to ensure the best possible results, and physicians should take note of these outcomes when determining their course of action for spondylolysis.
-As reported in the May '11 edition of Knee Surgery, Sports Traumatology, Arthroscopy
July 10, 2012
See News
Disclaimer:
The information in the articles, posts, and newsfeed is intended for informational and educational purposes only and in no way should be taken to be the provision or practice of physical therapy, medical, or professional healthcare advice or services. The information should not be considered complete or exhaustive and should not be used for diagnostic or treatment purposes without first consulting with your physical therapist, occupational therapist, physician or other healthcare provider. The owners of this website accept no responsibility for the misuse of information contained within this website.