News
Range of motion of the neck decreases with age, often without pain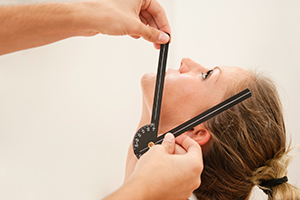 In most cases of neck pain, there is no specific cause
Neck pain is a common condition that affects the upper (cervical) spine, and most cases are considered nonspecific, meaning there is no specific cause that can be identified. Up to 43% of patients with nonspecific neck pain visit their doctor for advice, and about 61% of them are referred to a physical therapist for treatment. During the examination, physical therapists usually measure the range of motion (ROM) of the neck-how far it can move in various directions-since a goal of treatment is to improve the mobility of the cervical spine. Unfortunately, there is little information about the normal values for cervical ROM (CROM), which makes it difficult to interpret results. Therefore, a study was conducted to establish normal CROM values and to examine the effects of age and sex on these values.
100 participants in four decades are measured
A total of 400 people without any neck complaints participated in the study, with 100 people (50 male, 50 female) for each decade of age from 20-59. A CROM device was used for all measurements because it's easy to use and very reliable, and works by being placed on the head like spectacles. Volunteers were given clear instructions on their posture and what movements to make, and made a variety of movements three times in each direction before being measured.
Using normal values can help determine if patients lack mobility
Results showed that CROM decreases significantly in all directions in the decade of 50-59 years when compared to people younger than 40. Unsurprisingly, the largest difference for all directions was found between 20-29 and 50-59 years, as there was a significant decrease in CROM from age that seemed to begin between 40-49 and continued into the 50s. Aside from these age differences-which may be due to issues like osteoarthritis-no notable differences were found between males and females. This study now provides normal CROM values for people aged 20-59 without neck pain, and can be consulted by medical professionals during assessments. A future study that performs the same analysis on patients with neck complaints will be an even greater help by being able to compare values of healthy people to those with neck pain.
-As reported in the March '14 issue of
Spine
May 20, 2016
See News
Disclaimer:
The information in the articles, posts, and newsfeed is intended for informational and educational purposes only and in no way should be taken to be the provision or practice of physical therapy, medical, or professional healthcare advice or services. The information should not be considered complete or exhaustive and should not be used for diagnostic or treatment purposes without first consulting with your physical therapist, occupational therapist, physician or other healthcare provider. The owners of this website accept no responsibility for the misuse of information contained within this website.