News
The use of physical therapy for managing chronic low back pain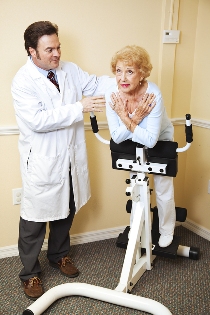 Though understanding of the condition has improved, health care costs continue to rise
Low back pain (LBP) is one of the most common conditions managed by physical therapists (PTs), and though acute LBP is treated with simple guidelines, the majority of cases are chronic. There has recently been a dramatic increase in studies with extensive reviews, leading to a significant improvement in understanding appropriate care for chronic LBP. Despite this, LBP-related health-care costs are rising, and little improvement has been made in health status or outcomes, pointing out a need to improve quality of care. Though it's a proven effective intervention, only a few studies have specifically evaluated PT as a management strategy for chronic LBP, and some feel PT is underutilized. Therefore, a study was conducted that investigated the use of PT for chronic LBP by identifying determinants for PT and comparing treatments with the best current evidence available.
Older study used to extract pertinent data
The current study took data from an older study performed in North Carolina, which contacted 5,357 households with 9,924 adults, finding 4,451 participants from 3,276 households with a history of back or neck pain. One adult from each household was randomly selected to be interviewed in detail, and 2,723 participated. A total of 732 individuals reported chronic LBP and served as the study group. The group then answered a series of questions and completed questionnaires on their symptoms, health-care usage and treatment.
Physical therapy a severely underused intervention
Of the 732 participants with chronic LBP, 29.7% saw a PT in the past year, with an overall average of 15.6 visits. Of the factors that led to PT usage, those with private insurance, those receiving workers' compensation and those employed in the previous 90 days were more likely to have visited a PT. Patients who had lower-extremity pain, recent surgery and who saw a specialist physician were all also associated with more PT visits. Of the specific treatments used, exercise was the most common, and one with sufficient support for effectiveness, while therapeutic massage and spinal manipulation also had support but were used by less than 20% of patients. Heat or cold and electrical stimulation were used moderately frequently (27-50%), though support for those treatments is lacking, while 7% received traction and almost 25% received a corset or brace, all interventions proven to be ineffective for chronic LBP.
These statistics point to evidence supporting PT referrals by primary care physicians for chronic LBP. In addition, patients may attain better outcomes if therapists adhere to proven effective treatments like exercise, massage and manipulation over traction and bracing. Improving the access to and quality of PT care can help better combat chronic LBP, eventually coming to reduce rates and lower health-care costs.
-As reported in the April '11 edition of Physical Therapy
April 28, 2011
See News
Disclaimer:
The information in the articles, posts, and newsfeed is intended for informational and educational purposes only and in no way should be taken to be the provision or practice of physical therapy, medical, or professional healthcare advice or services. The information should not be considered complete or exhaustive and should not be used for diagnostic or treatment purposes without first consulting with your physical therapist, occupational therapist, physician or other healthcare provider. The owners of this website accept no responsibility for the misuse of information contained within this website.